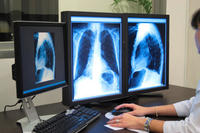 XMedicus is a modern, fast and stable medical records system, expand the main program with the add-on modules you need or save money by running the standalone standard version.
The XMedicus journal software can run on a server or the internet, both options are fast and stable and has been thoroughly tested.

The journal software ensures you spend your time on the patients instead of the computer. For you this means:
Increase in earning
greater flow of patients
higher efficiency
lower maintenance costs for
IT
personnel
support
XMedicus Ltd offers an all inclusive software solution that runs without the Microsoft operating system everything is included at installation.
Advantages for the radiologist
XMedicus clinic software is installed on more than 50 clinics worldwide
Mail, spreadsheet and word processing software included in the installation.
updates and backupsolution is included with every purchase
Hardware* and software* from us if your clinic needs new equipment - most of the times, there is no need for it. Læs om totalløsning
* Use the clinics own Hardware/software. Se egen hardware
Book a demo or order here:
Email xmedicus@xmedicus.com
or call us at +45 8883 6000